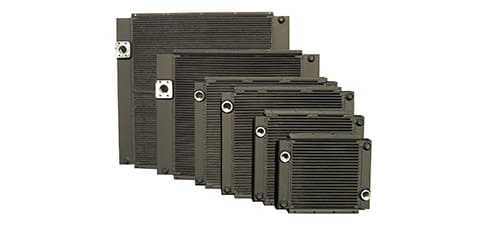 Brazed Aluminum Heat Exchangers
We offer a variety of Brazed Aluminum Heat Exchangers (bar and plate, air-cooled) similar to our FIN-COOL® and TEMP-TROLLER® unit models. Standard sizes are in stock and available for immediate shipment. You can size our standard units to your application using our FAST FITTM online sizing tool. Please contact us for more information on our Brazed Aluminum Heat Exchangers and customization options for each.
Benefits of Brazed Aluminum Heat Exchangers
Hayden Industrial offers brazed aluminum heat exchangers with a wide range of benefits. Our team of experts are dedicated to assisting you in choosing the perfect aluminum heat exchanger for your needs.
The benefits of our brazed aluminum heat exchangers include:
Cost-effective
Compact
Strength
Low-Temperature capabilities
---
Key Features
Face area sizes range from ½ square-foot to 16 square feet
Lightweight, all-aluminum bar and plate heat exchanger construction
Cooling mediums include water, glycol, oils, and gases
SAE O-ring ports ensure leak-proof joints
Maximum operating pressure of 250 PSI
Maximum operating temperature of 300°F
Key Options
Compact design for easy placement and installation with standard base mounting brackets
Motor options:

230-460V - Three Phase - AC
110V - Single Phase - AC
12V/24V - DC
Hydraulic Motors

Custom manifolds to meet your connection and piping requirements.
High-pressure options available up to 500 psi at 300°F
Custom designs available up to 50 square feet
Custom designs available with multi-circuits for multiple process streams in a common core

Can be provided with other accessories for process control.
Industries of Brazed Aluminum Heat Exchangers
Hayden's Brazed Aluminum Heat Exchangers are great for a wide range of industries, including:
Oil & Gas
Immersion Cooling
Automotive
Agriculture
Mining
Marine
Petrochemical
LNG
To learn more about our brazed aluminum air cooler & heat exchangers, contact us here.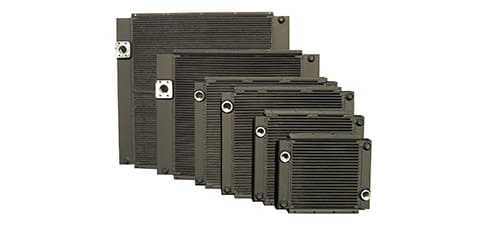 Specifications