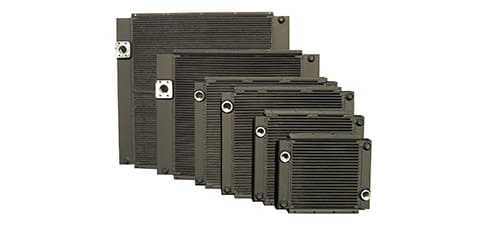 Standard Brazed Aluminum Heat Exchangers
We offer a variety of Standard Brazed Aluminum Heat Exchangers (bar and plate, air cooled) similar to our FIN-COOL® and TEMP-TROLLER® unit models. Standard sizes are in stock and available for immediate shipment. You can size our standard units to your application using our FAST FITTM on-line sizing tool. Please contact us for more information on Standard Brazed Aluminum Heat Exchangers and customization options for each.
---
Key Features
Face area sizes range from ½ square-foot to 16 square feet
Lightweight, all-aluminum bar and plate heat exchanger construction
Cooling mediums include water, glycol, oils, and gases
SAE O-ring ports ensure leak-proof joints
Maximum operating pressure of 250 PSI
Maximum operating temperature of 300°F
Key Options
Compact design for easy placement and installation with standard base mounting brackets
Motor options:

230-460V - Three Phase - AC
110V - Single Phase - AC
12V/24V - DC
Hydraulic Motors

Custom manifolds to meet your connection and piping requirements.
High pressure options available up to 500 psi at 300°F
Custom designs available up to 50 square feet
Custom designs available with multi-circuits for multiple process streams in a common core

Can be provided with other accessories for process control.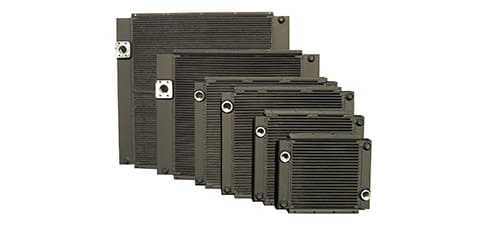 Specifications