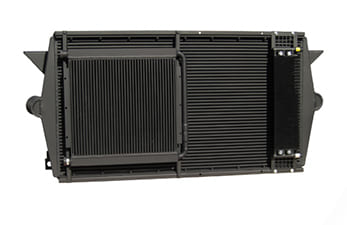 Aluminum Brazed Oil Coolers
We custom design multi-circuit heat exchanger packages for OEM production applications. Our units feature the same design technology as the standard ABHX product, but are custom designed for more complex applications.
---
Key Features
Our bar and plate technology features a wide variety of fin types for both the fluid side and the air side of the cooler creating an unlimited number of fin pack geometries. When coupled with our powerful sizing program we create the most efficient multi-circuit design in the industry.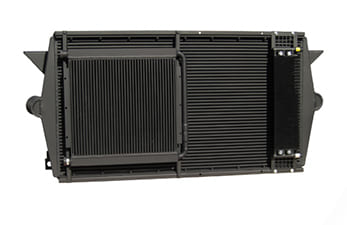 Package Includes
Engine Cooling Radiator – Brazed Aluminum design
Engine Oil Cooler – Tube & Fin (FIN–COOL®) design
Hydraulic Cooler – Tube & Fin (FIN–COOL®) design
Diesel Fuel Cooler – Tube & Fin (FIN–COOL®) design
Turbo Charger Cooler – Brazed Aluminum design
Contact Us